Digits
kanji
kun-yomi
on-yomi
一

ひと

つ
一つ
one, only

いち

一
one, best, first
二

ふた

つ
二つ
two

に

二
two
三

みっ

つ
三つ
three, tri-

さん

三
three, tri-
四

よっ

つ
四つ
four

し

四
four

よん

四
four
五

いつ

つ
五つ
five

ご

五
five
六

むっ

つ
六つ
six

ろく

六
six
七

なな

つ
七つ
seven

しち

七
seven

なな

七
seven
八

やっ

つ
八つ
eight

はち

八
eight
九

ここの

つ
九つ
nine

く

九
nine

きゅう

九
nine
comments: suggestions to memorize some of these kanjis.
六 (6) looks like a combination of the digits of the roman number 6, i.e., VI
七 (7) is an upside-down 7 crossed out the European way
3 pieces of cake, please.
keiki wo mitsu kudasai.
ケーキを みつ ください。
ケーキを三つくさい。
give me 5 dollars, please.
go doru kudasai.
ご ドル ください。
五ドルください。
Numerology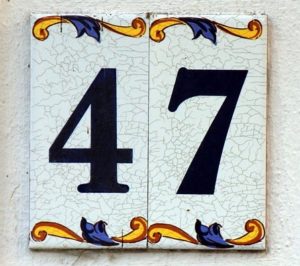 We count with on-yomis (ichi, ni, san, …). Unfortunately, the on-yomi of 4, 'shi', means 'dead' in Cantonese, so it is considered an unlucky number, which is why Chinese families dislike buying houses whose number includes a 4 [wikipedia]. Thus, the Japanese modified the kun-yomi 'yotsu' into 'yon', to have an alternate way to count 4 without the unlucky implication.
Likewise, the on-yomis of 7 and 9 – 'shichi' and 'ku', sound like 'near-certain death' and 'pain and suffering' in Japanese, so they were given the alternate names 'nana' (a modification of 'nanatsu') and 'kyuu' (a modification of 'ku' that sounds as 'relief') [wikipedia].
Shopping
十

とお

十
ten

じゅう

十
ten
百

ひゃく

百
hundred
千

せん

千
thousand
金
お

かね

お金
money, metal

きん

金
gold
円

まる

円
circle, round

えん

円
yen
comments: suggestions to memorize some of these kanjis.
十 (10) is the roman number 10, i.e., X, standing on a leg.
百 (100) looks like '100' rolled 90° to the right
All the multiples of 10, 100 and 1,000 are the first digit followed by the multiplier, e.g., 20 is ni-juu, 200 is ni-hyaku, and 2,000 is ni-sen; the following are the only exceptions:
number
300
600
800
3,000
8,000
romaji
sanbyaku
roppyaku
happyaku
sanzen
hasen
hiragana
さんびゃく
ろっぴゃく
はっぴゃく
さんぜん
はっせん
the pen is 300 yens.
pen wa san-byaku en desu.
ペンは さんびゃく えん です。
ペンは三百円です。
the radio is 3,600 yens.
radio wa sanzen roppyaku en desu.
ラヂオは さんぜん ろっぴゃく えん です
ラヂオは三千六百円です。
八百屋 (やおや, ya-o-ya)
The suffix 屋 (や – ya) indicates a store of some kind, or a person that works at that store. For example, 魚屋 (sakana-ya) is either a store that sells fish, or the person that works at that store. The same goes for パン屋 (pan-ya – bread store, a.k.a. bakery), 本屋 (hon-ya – book store), 肉屋 (niku-ya – meat shop), 花屋 (hana-ya – flower shop), and many others. Well… with this background we would be at a loss with a store called 八百屋 (the 800-store) that is pronounced, of all things, やおや (ya-o-ya). What does it sell?
It turns out that in English we use the word 'zillion' to describe a large number, while Japanese used to use the number '800', so the 800-store is a store that sells a large number of 'things', and it turns out to be… a produce shop; yeap… a store that sells vegetables. The pronunciation appears to be a combination of the abbreviation of 'yasai' (vegetable), and 'o-ya' (respectable shop), i.e., 'yasai-o-ya', reduced to 'ya-o-ya'. What throws us off is that the pronunciation and the writing have nothing to do with each other.