In the post introducing radicals we laid them all on the table, together with their variations. We saw that a radical is a set of strokes that has some 'basic' meaning. Well… kanjis are not based on radicals, but we can certainly use radicals to study kanjis as if the kanjis had been created to synthesize a meaning conveyed with the radicals that form it.
Let's take the case of a typical kanji: 名 (na), which means 'name'. For example, 名 is the 3rd character in the title of the blockbuster movie 'kimi no na wa' (your name?):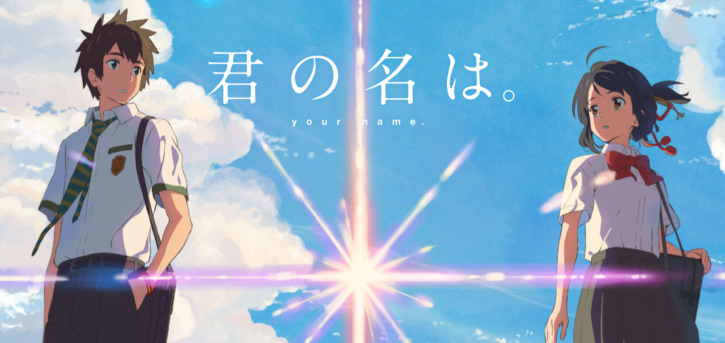 Btw, 'Your name' has a 98% approval rating in Rotten Tomatoes and 84% in IMDB, so give it a shot if you have not seen it.
Now let's look at how 名, or 'name', is built; it is composed of two radicals:
At this moment, we are not interested in figuring out how the meanings of 夕 and 口 combine to give 名 its meaning. Instead, what we care is that the kanji 名 is composed solely of the two radicals 夕 and 口. Indeed, very often we can split a kanji into radicals.
Sometimes the radicals are not obvious. For example, the kanji 石 ('stone') is composed of the ideogram 丆, which has a meaning but is not a radical, and the radical 口; however, 丆, itself, is composed of the radicals 一 and 丿, so in the end, 石 is composed of three radicals:
radical #1, 一, which means 'one'
radical #4, 丿, which means 'slash' or 'bend'
radical #30, 口, which means 'mouth' or 'opening'
The title of this post is 'radicals and katakana', though. So, where does katakana come into play? Well… take a look at the radicals 一, 夕, 丿 and 口 again. Do they look familiar? Yeap… 一 is not a katakana, but 夕 (ta), 丿 (no), and 口 (ko) are. This is because katakana characters come from fragments of kanjis and, in many cases, the monks that created these characters took from a kanji, as fragment, exactly the set of strokes that centuries later would become one of the 214 radicals. Let's look again at the kanjis on which the katakana characters are based, but focusing on the fragment of the kanji that was used to create the character: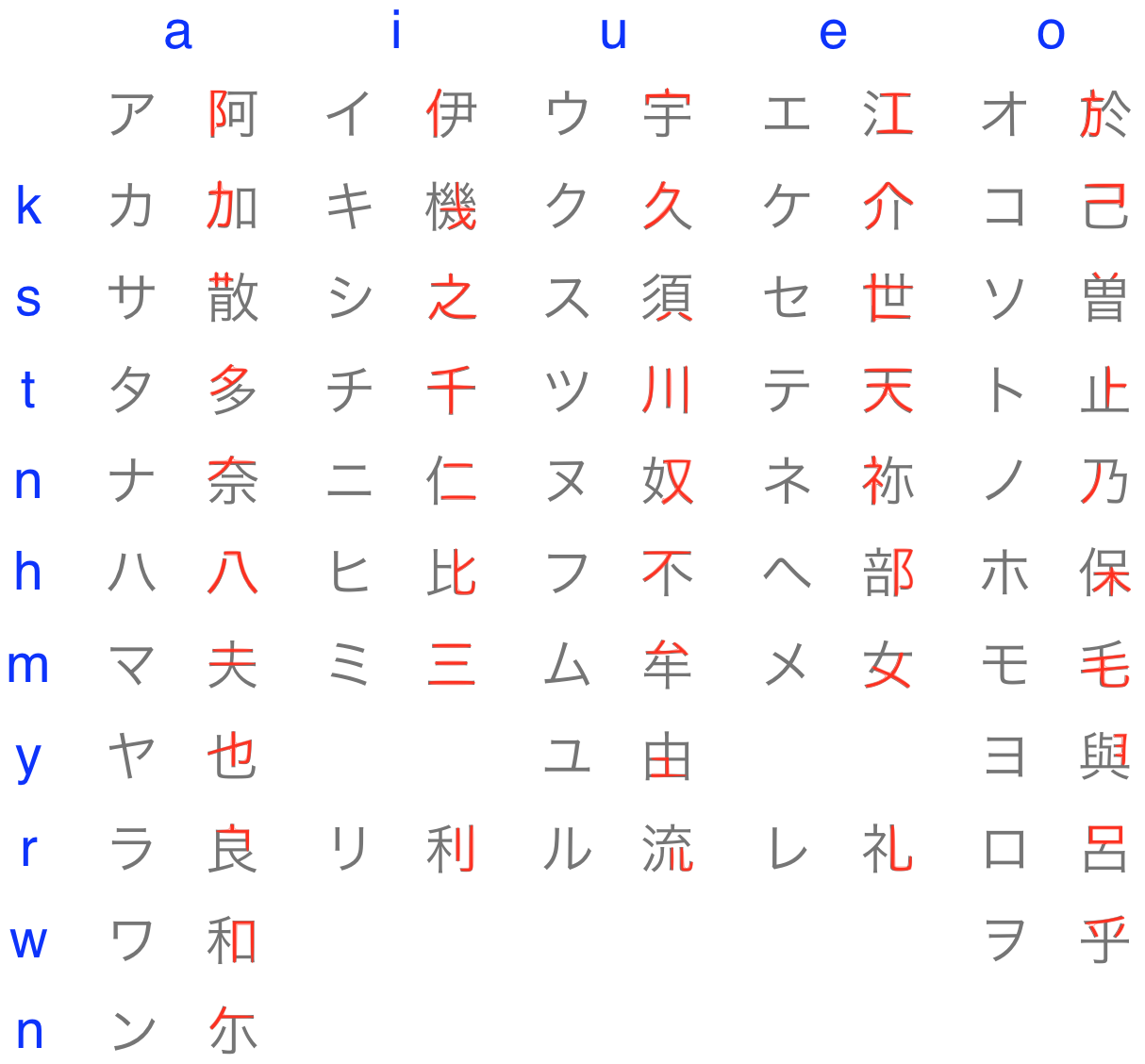 Many katakana characters, like メ(me) and ラ (ra), were created from fragments that didn't have a meaning; however, some characters, marked below in green, are identical to the radicals they came from, while others, marked in blue, still preserve from the the radicals they came from both a resemblance and the stroke order. These are easy radicals to learn because we already know them as katakana characters, so all we need is to learn their meanings as radicals.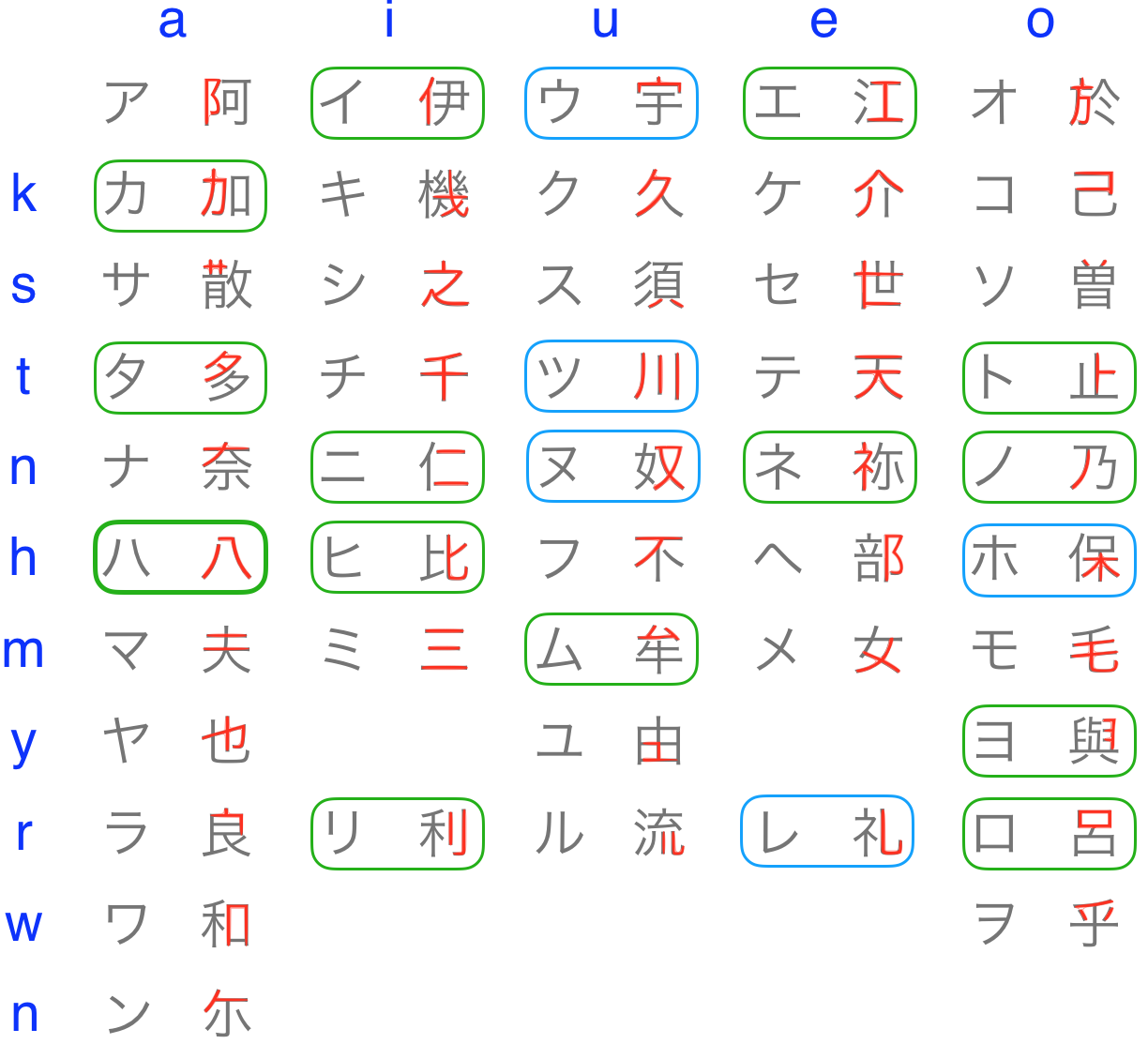 katakanas = radicals
The following katakana characters are both a character and a radical. In some cases, the radical that became a katakana character has additional forms, in which case, we can find them below. For example, the radical/katakana イ, which means 'man' or 'human', also has the alternative form 人. Since all these katakana characters and radicals are identical, their stroke order is also identical.
katakana
イ – i
エ – e
カ – ka
タ – ta
ト – to
ニ – ni
ネ – ne
丿 – no
ハ – ha
ヒ – hi
厶 – mu
ヨ – yo
リ – ri
ロ – ro
rad. forms & No.
人, イ, 𠂉 – 9
エ – 48
カ – 19
タ – 36
卜, ⺊ – 25
ニ – 7
示, ⺬, ネ – 113
丿 – 4
八 – 12
ヒ – 21
厶 – 28
彐, ⺔, ⺕ – 58
刀, ⺈, リ – 18
ロ – 30
rad. meaning
human, person
work
power
evening, sunset
divination, rod
two
spirit
slash, bend
eight
spoon
private
pig snout
sword, knife
mouth, opening
katakanas ⇐ radicals
Sometimes the monks based a katakana character from a set of strokes that would become a radical, but the present form of the character is not identical to the radical. Such set of radicals is also easy to learn because, even if the katakana character and the radical are not identical, they still resemble each other and their stroke order is the same.
rad. forms & No.
宀 – 40
巛, 川, 巜 – 47
又 – 29
木 – 75
乛, 乙, ⺄, 乚 – 5
rad. meaning
shaped crown
stream, river
right hand
tree, wood
second, latter
katakanas ⇒ radicals
Finally, we have a set of mnemonics. There some katakana characters that resemble radicals from which they were not based, and that share the stroke order.
rad. forms & No.
勹 – 20
廾 – 55
艸,⺾,⺿,⻀ – 140
水,⺡, ⺢ – 85
小, ⺌, ⺍ – 42
八, ハ, 丷 – 12
十 – 24
儿 – 10
囗 – 31
冂, ⺆ – 13
冖 – 14
冫,⺀ – 15
rad. meaning
wrap
two hands
grass
water
small
eight
ten, perfect
legs
enclosure
inverted box
cover
ice
summary
There are a number of radicals that are easy to learn because either they are identical or similar to a katakana character, or because there is a katakana character that looks similar and has the exact same stroke order as the radical. Organized by number radical they are:
rad. forms & No.
4 – 丿
5 – 乛, 乙, ⺄, 乚
7 – ニ
9 – 人, イ, 𠂉
10 – 儿
12 – 八, ハ, 丷
13 – 冂, ⺆
14 – 冖
15 – 冫,⺀
18 – 刀, ⺈, リ
19 – カ
20 – 勹
21 – ヒ
24 – 十
25 – 卜, ⺊
rad. meaning
slash, bend
second, latter
two
human, person
legs
eight
inverted box
cover
ice
sword, knife
power
wrap
spoon
ten, perfect
divination, rod
rad. forms & No.
28 – 厶
29 – 又
30 – ロ
31 – 囗
36 – タ
40 – 宀
42 – 小, ⺌, ⺍
47 – 巛, 川, 巜
48 – エ
55 – 廾
58 – 彐, ⺔, ⺕
75 – 木
85 – 水,⺡, ⺢
113 – 示, ⺬, ネ
140 – 艸,⺾,⺿,⻀
rad. meaning
private
right hand
mouth, opening
enclosure
evening, sunset
shaped crown
small
stream, river
work
two hands
pig snout
tree, wood
water
spirit
grass