parts of the body
kanji
kun-yomi
on-yomi
目

め

目
eye, look, insight
耳

みみ

耳
ear, hearing
口

くち

口
mouth; gate; opening
いり

ぐち

入口
entrance
手

て

手
hand, arm
じょう

ず

上手
skilled
足

あし

足
foot, leg
My eyes are black.
watashi no me wa kuro-i desu.
わたしの めは くろい です。
私の目のは黒いです。
Your hands and feet are big.
anata no te to ashi wa ooki-i desu.
あなたの てと あしは おおきい です。
あなたの手と足は大きいです。
Aside from meaning 'eyes' here are other interesting uses of 目:
we use it to state order, e.g., 'the third person' is 三人目 (san-nin me)
'in front of my eyes' (目の前に, me no mae ni) means 'in front of me'
Ms. Hanako is the third person.
hanako san wa san-nin me desu.
はなこ さんは さんにん め です。
花子さんは3人目です。
It is in front of me.
watashi no me no mae ni arimasu.
わたしの めの まえに あります。
私の目の前にあります。
person
kanji
kun-yomi
on-yomi
男

おとこ

男
man, male
女

おんな

女
woman, female

しょう

じょ
少女
girl
子

こ

ども
子供
child
い

す

椅子
chair
ぼう

し

帽子
hat, cap
人

ひと

人
person, man
アメリカ

じん

アメリカ人
American person
ひと

り

一人
one person
さん

にん

三人
three people
王

おう

王
king, monarch
名

な

まえ
名前
name
ゆう

めい

有名
famous
The girl's name is Hanako.
onna no ko no namae wa hana-ko desu.
おんなの この なまえうは はなこ です。
女の子の名前は花子です。
That man is the king.
ano otoko no hito wa ou desu.
あの おとこの ひとは おう です。
あの男の人は王です。
'ko' (child) is a common ending for female names; although usually a name has several possible spellings (discussed
here
), the following are '-ko' names that we can spell with kanjis from Kentei 9 and 10:
花子 (Hana-ko): flower child
星子 (Hoshi-ko): star child
森子 (Mori-ko): forest child
友子 (Tomo-ko): friendly child
春子 (Haru-ko): spring child
夏子 (Natsu-ko): summer child
冬子 (Fuyu-ko): winter child
秋子 (Aki-ko): autumn child
明子 (Aki-ko): bright child (a diff. spelling)
and here are a few more from pop culture:
真理子 (Mari-ko): from James Clavell's 'Shogun'
貞子 (Sada-ko): child with integrity, from 'Ringu'
爽子 (Sawa-ko): refresing child, from 'Kimi ni todoke'
animals
| | | | | | | |
| --- | --- | --- | --- | --- | --- | --- |
| kanji | kun-yomi | | | on-yomi | | |
| 犬 | いぬ | 犬 | dog | | | |
| 虫 | むし | 虫 | insect; temper | | | |
| 貝 | かい | 貝 | shellfish, sea shell | | | |
My dog eats bugs.
watashi no inu wa mushi wo tabe-masu.
わたしの いぬは むしを たべます。
私の犬は虫を食べます。
There are shellfish in the river.
kawa ni kai ga imasu.
かわに かいが います。
川に貝がいます。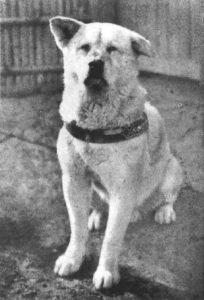 Hachikou was an Akita owned by Hidesaburou Ueno, a university professor. Every day, Hachikou waited at the train station for his return home. One day, in 1925, the professor died while lecturing at the university and didn't return. Hachikou continued going daily to the station to wait for his return, for nine years, until it died in 1935. Since then, Hachiko has been considered an example of loyalty and fidelity, and his memory has been kept in monuments and movies, e.g., there are statues of Hachiko at Shibuya station and at the University of Tokyo, and the movie 'Hachi: a Dog's tale' is a recent drama about Hachiko's life.
plants
kanji
kun-yomi
on-yomi
木

き

木
tree, wood

もく

ようび
木曜日
Thursday
林

はやし

林
grove, forest
森

もり

森
forest, woods
竹

たけ

竹
bamboo
花

はな

花
flower, cherry blossom

か

びん
花瓶
flower vase
草

くさ

草
grass, weed, herb
すい

そう

水草
water plant
In this forest there is only bamboo. There is no grass, flowers or trees.
kono mori ni wa dake take ga ari-masu. kusa ya hana ya ki wa ari-masen.
この もりには だけ たけ が あります。くさや はなや きは ありません。
この森にはだけ竹があります。草や花や木はありません。
Probably the most traditional yearly event in all Japan is 花見 (hana-mi, flower viewing), when millions of people get together and have parties under blossoming cherry trees, a tradition more than a thousand years old [wikipedia].
Japanese people are also very fond of fireworks, which have the appropriate name of 花火 (hana-bi, fire flowers). Firework festivals are called 花火大会 (hana-bi tai-kai, fire-flower large-party). Many Japanese dress traditionally, in yukatas and kimonos, for these festivals that include street food and games. Look here for more great pictures of these festivals.
Firework festivals appear often in pop culture. Comes to mind the final episode of the anime オオカミ少女と黒王子 ('ookami shoujo to kuro ouji', 'Wolf Girl and Black Prince'), which takes place in Kobe during a hana-bi tai-kai.
Did you notice that every character in the title of this manga is a 1-st grade character?
オオカミ少女と黒王子:
オオカミ: 'ookami' is 'wolf' (it's written in katakana)
少女 (little-woman): 'shou-jo' is 'girl'
黒: 'kuro' is 'black'
王子 (king-child): 'ou-ji' is 'prince'
---
Other N5 words:

English
exit
letter
stamp
skilled
unskilled
boy
you
girl
you
egg
two people
adult
romaji
de-guchi
te-gami
kit-te
jouzu
heta
otoko-no-ko
anata
onna-no-ko
anata
tama-go
futa-ri
otona
kana
でぐち
てがみ
きって
じょうず
へた
おとこのこ
あなた
おんなのこ
あなた
たまご
ふたり
おとな
kanji
出口
手紙
切手
上手
下手
男の子
貴男
女の子
貴女
玉子
二人
大人