Earth
kanji
kun-yomi
on-yomi
土

つち

土
soil, ground, Earth

ど

ようび
土曜日
Saturday
山

やま

山
mountain
X

さん

X山
Mount X, Mt. X
石

いし

石
stone; gem, jewel

せっ

けん
石鹸
soap
This stone is from that mountain.
kono ishi wa ano yama kara desu.
この いしは あの やまから です。
この石はあの山からです。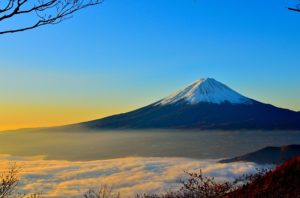 In Japanese, Mt. Fuji is called 'fuji-san': 富士山. The kanji of mountain, 山, is read as 'yama' when it's by itself (kun-yomi, or 'Japanese reading'), and as 'san' when it's compounded with other kanjis (on-yomi, or 'Chinese reading'). Thus, the 'san' of 'fuji-san' is not the honorific, but instead it's just the Chinese reading.
sky
kanji
kun-yomi
on-yomi
空

そら

空
sky, air

あ

ける
空ける
to open, unwrap

から

空
emptiness, vacuum
気

き

気
spirit, mind
天

てん

天
sky, heaven
日
よう

び

曜日
day of the week

にし

ようび
日曜日
Sunday
月

つき

月
Moon

げつ

ようび
月曜日
Monday
いち

がつ

一月
January
Look at the sky; the weather is bad.
sora wo mite kudasai. tenki wa iya desu.
そらを みてください。てんきは いやです。
空を見てください。天気はいやです。
On Monday the moon is red.
getsu-youbi wa tsuki ga akai desu.
げつようびは つきが あかい です。
月曜日は月が赤いです。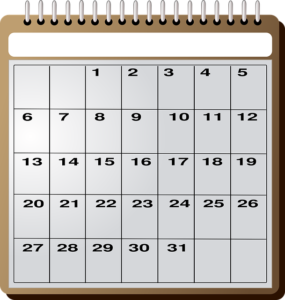 The names of the days in a Japanese calendar are fairly unusual. They use the counter 日. The 'rules' are the following:
1日 is an exception pronunced 'tsuitachi'
2日-10日, 14日, 20日, and 24日 end in 'ka'
otherwise, the name ends in 'nichi'
From 2 to 10, the numbers follow the Japanese reading (i.e., hitotsu, futatsu, mitsu, …) while the rest follow the Chinese reading (i.e., ichi, ni, san, …).
1日 – tsuitachi
2日 – futsuka
3日 – mikka
4日 – yokka
5日 – itsuka
6日 – muika
7日 – nanoka
8日 – youka
9日 – kokonoka
10日 – tooka
11日 – juu-ichi-nichi
12日 – juu-ni-nichi
13日 – juu-san-nichi
14日 – juu-yokka
15日 – juu-go-nichi
16日 – juu-roku-nichi
17日 – juu-shichi-nichi
18日 – juu-hachi-nichi
19日 – juu-ku-nichi
20日 – hatsuka
21日 – ni-juu-ichi-nichi
22日 – ni-juu-ni-nichi
23日 – ni-juu-san-nichi
24日 – ni-juu-yokka
25日 – ni-juu-go-nichi
26日 – ni-juu-roku-nichi
27日 – ni-juu-shichi-nichi
28日 – ni-juu-hachi-nichi
29日 – ni-juu-ku-nichi
30日 – san-juu-nichi
31日 – san-juu-ichi-nichi
water
kanji
kun-yomi
on-yomi
水

みず

水
water

すい

ようび
水曜日
Wednesday
川

かわ

川
river, stream
雨

あめ

雨
rain
There is water in the rain and in the river.
ame to kawa ni mizu ga ari-masu.
あめと かわに みずが あります。
雨と川に水があります。
In general, Japanese is a language that does not have much pitch. However, there are certain words that absolutely have a pitch. One of those words is 'ame'.
a
me, with a pitch on the first syllable (i.e., on the 'a'), means 'rain' and its kanji is 雨; a
me
, with a pitch on the second syllable (i.e., on the 'me'), means 'hard candy' and its kanji is 飴. For example, candied apples, tangerines, and strawberries on a stick are 'ringo ame', 'mikan ame' and 'ichigo ame'. Hence, the hiragana for both rain and hard-candy is あめ, but we can tell them apart with their kanjis.
nature
kanji
kun-yomi
on-yomi
力

ちから

力
force, strength, power
火

ひ

火
fire, flame

か

ようび
火曜日
Tuesday
音

おん

音
sound, noise
---
Other N5 words:

English
a lot, many, much
to open
empty hand
sickness, disease
electricity
the weather
lively, energetic
every day
today
tomorrow
yesterday
last month
next month
this month
one month
music
romaji
taku-san
a-ku
kara-te
byou-ki
den-ki
ten-ki
gen-ki
mai-nichi
kyou
ashita
kinou
sen-getsu
rai-getsu
kon-getsu
hitotsu-ki
on-gaku
kana
たくさん
あく
からて
びょうき
でんき
てんき
げんき
まいにち
きょう
あした
きのう
せんげつ
らいげつ
こんげつ
ひとつき
おんがく
kanji
沢山
空く
空手
病気
電気
天気
元気
毎日
今日
明日
昨日
先月
来月
今月
一月
音楽